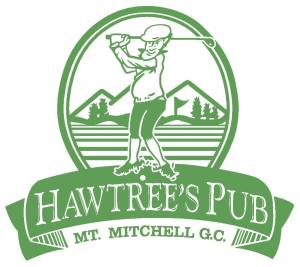 Hawtree's Pub is named for our designer, Fred W. Hawtree. Fred is son of the founder of the Hawtree and Son firm, Fred G. Hawtree, and father of the current figurehead, Matin Hawtree. Hawtree and Son is the longest continuously operating golf course architecture firm in the world. We invite you all in to enjoy the best seat on the course. Enjoy a delicious meal and raise a glass with friends and family to honor the legacy of this great family and the families who have resided on this mountain for generations.
Come on in and sit a while, we'll have a friendly face and a cold beverage waiting for you.
---
WE'RE HIRING!
Seeking bartenders, waitstaff and cooks.
We're hiring friendly folks and smiling faces to complete our restaurant team for the season.
Want the best work view, the best customers and generous tips?
Email info@mountmitchellgolf.com to apply or for more information.
HOURS
Bar and Appetizers
Open Wednesday, Thursday, Friday, Saturday: 3pm-10pm
Hawtree's Pub and Grill Dining Room and Patio
Open Wednesday, Thursday, Friday, Saturday 5pm-10pm
Make your reservations below.
---